At Home Diagnostic Inspections Inc., our aim is to give you the confidence, the security, and the peace of mind you deserve when you purchase your next home.
Our inspection exceeds the standards of practice set forth in our industry
We hold to the standards of practice for the state of New Jersey as well as the American Society of Home Inspectors.
We study and examine all accessible systems of the home, and customize an accurate, comprehensive, and confidential report. This report is guaranteed to be emailed to you within twenty-four hours of the inspection, and more often than not, the same day that the inspection takes place. This drastically reduces the risk of omitting crucial information regarding your home purchase. It also means that there is only a short waiting time for your report.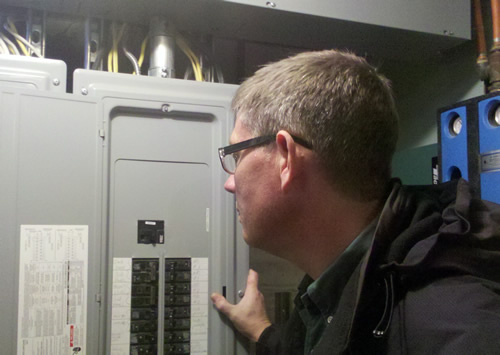 When we inspect a home, we pride ourselves in the time and care we take with each inspection.
All inspections are allotted sufficient time to cover every item in the home. Our inspectors will never feel rushed to leave you for another appointment. We will discuss the amount of time that we will need when booking your inspection. That is the reason that we will need a detailed description of the home at the time of booking. This will also give you the opportunity to set aside the important time needed to accompany the inspector.
Our inspectors use the latest techniques and equipment to discover items that may be at risk. Our company motto, 'We go where no man has gone before', has been proven time and again. Countless comments from clients and agents over these long years have proven it. Buyers and agents asking; "Are you really going in there?" or "you're not going to take that apart are you?", or a seller saying "My inspector never did that" prove our motto every day. We are constantly made aware that our diligence pays off for our clients. "If you hadn't made the extra effort to squeeze into that crawlspace, I would have never known about that major issue". The number of repeat clients, and client referrals we receive is testimony to our hard work and accuracy.
Although we do our best to inspect the entire property, there may be things that cannot be inspected. Snow covered buildings and grounds, air conditioning systems when the exterior temperature may cause damage to the system, underground items such as drains and sprinklers, any area where damage would have to be caused in order to enter are examples of items in this category. Because of our experience, we are able to flag these items, in order to be sure that your representatives are aware of the potential problems and risk.
After finding issues, we don't disappear.
We will give you suggestions for improving or correcting any of these potential problems. We will also instruct you on the operation of the different systems of the home, and assist you to designing a maintenance schedule for these systems.
We are well-versed in the construction field, and will assist you with ideas for additions and renovations which you may have in mind. We understand that this will be one of your most valued investments. We want to help you to discover the true potential of your investment, and the comfort of your new home. If you do have ideas for changes that you would like to make, we encourage you to make us aware of hem at the time of the inspection. It is much better for both you and us, if we can see what you have proposed to change.
We encourage you to take a full part in the inspection process. Please ask all of the questions that you may have. Never be fearful of asking a simple question. We realize that all buyers have special requirements and different levels of understanding.
A seller's inspection is very much like a home inspection. Every part of the home that is accessible is inspected. There may be things that the seller knows about portions of the inspection that make it unnecessary to perform those aspects of the full home inspection. For example, the seller may know if the range or dishwasher is not working properly, thus foregoing the testing of those appliances.
The major difference between an inspection for a buyer versus an inspection for a seller is the report itself. If a seller has a current service contract with a pesticide company for termites, there is no need for us to write a HUD form, although we will look for the presence of termites. Because of the seller's familiarity with the home, they may only wish to have a verbal reporting of the findings. On the contrary, if the inspection is performed for someone unfamiliar with the property, like an heir or executor, it is important to have written results.
As is the case with our full home inspection, the seller is entitled to our ongoing service program for the extent of their ownership of the property we inspect. Questions regarding repairs that should be made prior to the marketing of the home are common. Referrals for service people and advice on estimates are also questions that come infrequently.
Because of the vast experience of our president, not only as an inspector but as a Real Estate broker (non-practicing), we are able to give advice on things that can be done to enhance the marketing of the property. As he always says, "$20.00 worth of paint in a can is worth $2000 when it's been applied professionally to a wall", and "If your first impression of the exterior is not good, it doesn't matter how wonderful the interior is. No buyers will see it." We do not offer any advice on pricing on any of our inspections. That is not our expertise and should be handled by a licensed full-time Real Estate professional or appraiser.